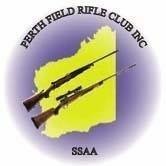 Perth Field Rifle Club was founded in 1974 when a group of keen shooters recognised the necessity of protecting and promoting the interests of shooters in Western Australia. The Club is affiliated with the Sporting Shooters Association of Australia (SSAA), which in turn is affiliated with the International Shooting Union, the Australian Shooting Association and the Australian Olympic Federation. Hence, our members have the opportunity to compete for Australia in international competition.
Facilities
The range offers members and visitors covered firing points for all-weather shooting, ample parking, barbecue facilities, a fully airconditioned modern clubhouse including rifle racks and covered verandas. The "new" range was occupied in 1997, and is without a doubt one of the best equipped ranges in Western Australia.
Your Committee for 2020
President: Mike
Vice President: Steve
Secretary: Eddy
Assistant Secretary: Jennifer
Registrar: Wendy
Club Captain: Neil
Treasurer: Bruce
Safety Training Officer: Alan
Handgun Training Officer: Paul Ra
Canteen Manager: Peter
Works Manager: Jamie
Enquiries Officer: Alan
Publicity Officer's: Paul Re & Jamie
WSC Reps: Merv & Richard
The Delegates
SHOTGUN
Shotgun Delegate: Adrian
Shotgun Sub-Delegates: Neil, Jamie, Merv & Jay
RIFLE
Field Rifle Delegate: Clint
3 Positional Sub-Delegate: Eddy
Midweek Field Rifle Sub-Delegate: Alan
Midweek Night Shoot Field Rifle Delegate: Clint
Combined Services Delegate: Owen
Benchrest Delegate: Mike
Long Range Precision: David
Fly Shoot Delegate: Dave
HANDGUN
Handgun Delegate: Paul Ra
Midweek IHMS Handgun Sub-Delegate: Alan
Weekend IHMS Handgun Sub-Delegate: Rex
Midweek Field Pistol Handgun Sub-Delegate: George
Weekend & Thursday Night Field Pistol Handgun Sub-Delegates: Gus, Dan, Jerome, Francois, Raz, Gunther & David
Location Info
The shooting range and clubhouse is located in the Wanneroo Shooting Complex, about 40-50 minutes drive north of Perth.